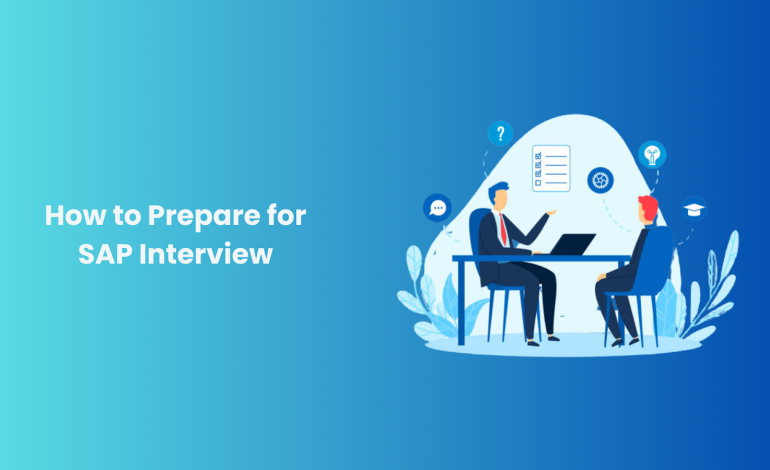 Taking an SAP Course is the first step in landing your ideal job in the SAP industry. However, practical experience is also necessary for acing SAP Interview Questions. In this blog, we'll show you how to be ready for a SAP interview and succeed. Whether you're fresh out of college or you've been in the workforce for decades, it's important to prepare yourself well for an SAP interview. Let's get into the tactics that will give you the self-assurance you need to obtain your dream SAP job.
Table of Contents
Research the Company and Role
Master the Basics of SAP
Understand SAP Interview Questions
Practice Mock Interviews
Highlight Your Soft Skills
Prepare Questions for the Interviewer
Stay Updated
Simulate Real-World Scenarios
Seek Feedback and Make Changes
Stay Calm and Confident
Conclusion
Research the Company and Role
Before diving into the SAP interview, a thorough familiarity with the organisation and the position you're interviewing for is necessary. Investigate the company's background, guiding principles, and current initiatives. Make sure your answers during the interview reflect the goals of the firm. Review the position's description to make sure you have the qualifications listed.
Master the Basics of SAP
Taking an SAP course will provide you with the groundwork you need to begin using SAP in your professional life. The fundamentals must be well understood, including SAP modules, data management, and business processes. Read through your notes and do some practice problems from the lab. Showing that you have a firm grasp of SAP fundamentals will impress your interviewer.
Understand SAP Interview Questions
If you want to ace your SAP interview, you should be ready for any question. These queries may be technical or situational in nature. Review SAP fundamentals, such as the system's design, its integration, and its reporting. Make sure you're prepared to talk about your problem-solving abilities and prior experience working on SAP projects. The best way to impress an interviewer is to be well-prepared with detailed but succinct answers to questions such as, "Tell me about your experience with SAP implementation" or "How would you handle a data migration issue in SAP?"
Practice Mock Interviews
You can practice for interviews with friends or teachers with mock interviews. Mock interviews are helpful in getting some interview experience with SAP before the real thing. By going through this procedure, you can improve your replies and prepare for potential pitfalls. Improving your interview abilities is a breeze with the help of constructive criticism from your practice interviews.
Highlight Your Soft Skills
Positions at SAP often call for a range of abilities, including both hard and soft skills. You may have paid more attention to the technical side of things throughout your SAP Course, but don't discount the value of showing your interpersonal abilities. Provide real-world instances of your ability to work in cross-functional teams and mediate disputes.
Prepare Questions for the Interviewer
In an SAP interview, both parties should expect to do some talking. Create some in-depth queries to put to the interviewer. Find out what SAP projects the firm is working on, what your responsibilities will be, and whether there is room for advancement in your position. This will demonstrate your motivation and allow you to determine whether the organisation is a good fit for your professional aspirations.
Stay Updated
SAP is a constantly developing field. Maintain a current knowledge of SAP's technological developments. Read SAP-related blogs, join SAP-related user groups, and watch SAP-related webinars. Candidates who show they are dedicated to lifelong learning and keep up with changes in their fields stand out from the pack.
Simulate Real-World Scenarios
Prepare for situations as they could really occur. Construct hypothetical situations with SAP-related difficulties, then go through possible solutions. This practical experience will allow you to put your academic knowledge into practice, boosting your self-assurance as you go into the interview.
Seek Feedback and Make Changes
Getting input from seasoned experts could benefit tremendously. If you need help with SAP, don't hesitate to ask for it. Discuss your experiences with mock interviews and the answers you prepared. Take this criticism as a chance to improve your responses and strategy. Iterating on your interview preparation over and over again will help you hone your skills and be ready for anything.
Stay Calm and Confident
It's normal to become anxious as the day of the interview draws near. To counteract this, try some deep breathing exercises and some upbeat mental imagery. Having faith in oneself is crucial if you want to succeed in an SAP interview. Think back on all you've learned and done so far in your SAP Course. Enter the interview room confident in your abilities and the value you can provide to the firm. Keeping your cool and exuding confidence throughout the interview will give a positive image of you.
Conclusion
There is no one way to be ready for an SAP interview. It's not only about passing an SAP course; you also need to research the organisation, learn the ropes, and practice for the interview. Your chances of landing your dream SAP job will skyrocket if you put in the time and effort to prepare thoroughly for SAP interview questions.