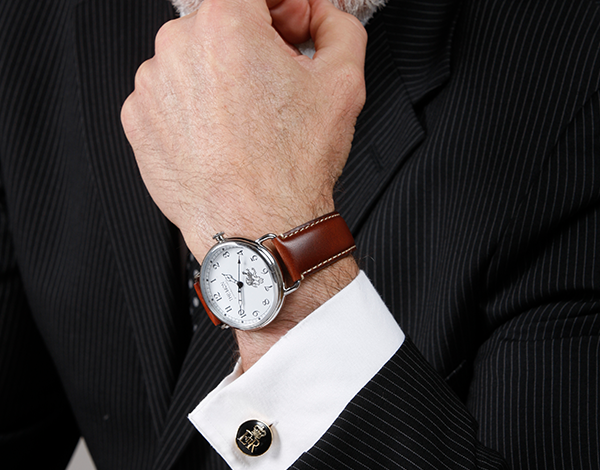 Is there an upcoming occasion? Be it a birth celebration, anniversary or wedding, special events are incomplete without special attire. There's no better way to amplify your style and look dapper than adorning a perfect pair of cufflinks. These small accessories are statement pieces that can instantly add a touch of personality and suaveness to your outfit.
This guide explores the importance of cufflinks on all special occasions and how to choose the right pair. You can even find personalised cufflinks in the UK that can take your ensemble to the next level.
What is the importance of cufflinks in men's fashion?
Cufflinks add the finishing touch to a well-dressed man's outfit. They are functional and aesthetically pleasing. Functionally, cufflinks fasten the cuffs of the shirts to ensure a more tailored fit. Aesthetically, they allow men to express their unique style and personality.
When getting ready for any special occasion, adding small details like cufflinks to the attire can make a huge difference.
How do you choose the right pair of cufflinks for special occasions?
The different factors to consider when selecting the right pair of cufflinks for special occasions are explained below.
Event Formality: The event's formality must be considered when choosing cufflinks. Black tie or formal affairs, such as galas, weddings and award ceremonies, call for classic black tie cufflinks. When attending such events, you can opt for elegant designs in precious metals like gold and silver. The pair could be adorned with enamel accents or gemstones for a touch of luxury. If it is a business casual affair, such as a cocktail party or birthday/anniversary celebration, the pair chosen must strike a balance between informality and sophistication. You can opt for silver or sterling silver cufflinks that offer an understated opulence.
Your style – You cannot shop for these accessories without considering your unique personality and style. As mentioned earlier, these accessories serve as a form of self-expression. Hence, if you lean towards classic elegance, you can consider cufflinks with traditional designs, such as stripes, monograms or geometric shapes. If your personality has a unique creative flair and you are not afraid to show it, explore unique cufflinks in vibrant colours with artistic motifs.
Consider the motif or theme – You can opt for themed cufflinks depending on the special occasion. For instance, if you are attending a destination wedding, the pair can feature popular landmarks of the location. This might add a personal touch to the accessories. Alternatively, you can consider personalising the cufflinks by engraving your name or initials or the date of the special occasion. You can even engrave a special symbol reflecting the special occasion.
Creative Cufflink Ideas for Different Occasions
Hopefully, you are clear on how to go about the cufflink selection process. The next step is to know how to incorporate them into your attire for different occasions. So, here are some creative tips.
Wedding Cufflinks
Wearing cufflinks at weddings never gets old. They add sophistication and flair to the overall ensemble. Your choice of accessories will depend on whether you are the groom or the groomsman.
If you are the groom, the perfect pair of wedding cufflinks would be one that matches the theme of your wedding. You can incorporate your wedding colours or customise them with your wedding date. They may also have your bride's initials to make her feel special and loved.
If you are one of the groomsmen, you can consider gifting the groom a pair of custom-made cufflinks. You can wear a pair by engraving the bridge and the groom's initials to represent your friendship.
Customised cufflinks with the wedding date engraved onto them in gold or silver will make for the perfect accessory for your anniversary celebration. If not the date, you can have a special memory engraved.
When attending corporate events, you can wear cufflinks with your company logo engraved onto them. You can even consider handing out engraved cufflinks to promote your brand.
Summing up
Cufflinks are one of men's fashion's most understated yet significant accessories. They help men showcase their style or commemorate a special occasion. Cufflinks in precious metals, such as gold and silver, add a touch of luxury and elegance to the overall attire. Regardless of what kind of pair you opt for, they will elevate your style and make you stand out from the rest.
So, when attending a special event the next time, do not forget to accentuate your ensemble with cufflinks.